5. Integrated cork underlay 1.2mm
4. High Density Fibreboard with Corkloc
3. Agglomerated cork 3.2mm
2. Genuine cork veneer
1. Protective surface
5
4
3
2
1
Cork Essence 10.5mm floor build-up
Profiled with a 2G Click Floating Floor System for easy installation, Cork Essence is ideal for installation over existing floor finishes. Three cork layers ensure all the comfort and wellbeing benefits of cork. The perfect choice in refurbishment projects where floor to ceiling heights are limited, yet acoustic and thermal specifications are required to achieve the optimum performance. 
Cork Essence combines the latest digital printing technology applied directly on cork to give both a natural touch and embossed texture. An environmental friendly varnish based on a ceramic compound ensures exceptional strength and longevity with a pleasant touch.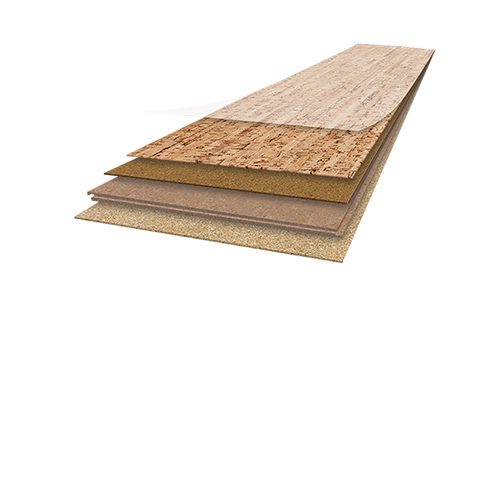 6. Comfort+ Integrated cork underlay
5. Angle Insulation System
4. Non-PVC Cork Rigid Core
3. Comfort+ cork inlay
2. Natural cork veneer
1. HRT Non-PVC Protective surface. Class of use 33
6
5
4
3
2
1
Amorim WISE 7mm floor build-up
At just 7mm thick, and where one flooring design is required throughout – perhaps in open plan living to include bathroom, shower and utility room, Amorim WISE is the perfect choice. 
A waterproof Cork Rigid Core is engineered with a non-PVC multilayer floating floor solution to give all the comforts of cork with a reinforced dimensional stability. A cork underlay provides an enhanced cork flooring for extra comfort. 
This state-of-the-art construction technology provides 5 layers for superior comfort, which is great for your legs and back – it's comfortable to walk on, even barefoot, and provides noise reduction between rooms.
Thermal insulation for energy efficiency creates an optimal floor temperature by insulating against cold subfloors. The 2G Click Floating Floor System allows for easy installation onto existing flooring, making it perfect on refurbishment projects where maximum floor to ceiling heights are desired
One of the most sustainable and natural materials known to man, Cortiça –Quercus Suber – is the bark of the cork oak. The harvesting or 'stripping' of cork is meticulously undertaken using hand held axes to prise the cork bark from its tree. No trees are felled. Harvested every 9 years, a cork tree will live for 150 years.
The harvesting  of cork is highly skilled and labour intensive, handed down between generations. A backbone to Portugal's rural way of life – supporting some 9,000 direct jobs and at least 6,500 indirect jobs – the cork activity encourages people to settle and thus halts the depopulation of these communities. An economically viable agroforestry system, cork harvesting encompasses the industries of livestock, beekeeping and the production of aromatic and medicinal plants and mushrooms.
Once removed from the tree the cork bark is stacked in the open air for around 6 months before it's put to use. Cork not used for cork wine stoppers is broken down to a fine grain and used in the manufacturing of a wide range of products, including flooring, toys and design products.
Amorim Wicanders cork flooring dovetails the latest technology with the natural properties of cork to provide a clean, safe and quick-to-install flooring solution that combines comfort and durability with sustainability and low carbon footprint. 
Suberin and ceroids are contained in the cork cell walls. This means cork is practically impermeable to liquids and gases. Its resistance to moisture enables it to age without deteriorating.

Cork is formed of gaseous components that enclose small impermeable compartments, isolated from each other by a moisture-resistant substance.

Cork is formed of a honeycomb structure. This makes it resistant to impact or friction.  

Cork is formed of a unique cellular structure that doesn't absorb dust. Cork is hygienic and helps protect against allergies and does not pose a risk to asthma sufferers.

Over 50% of cork is air, which at 0.16 grams per cubic centimetre makes cork a very light material, with the ability to float.

Cork has a natural memory, bouncing back from impacts. It is the only solid which, when compressed on one side, does not increase in volume on the other side. As a result of its elasticity, cork it is able to adapt, for example, to variations in temperature and pressure without suffering alterations. It has a sound reduction up to 53%.

Cork has low conductivity to heat. Thermal comfort allows for an optimal floor temperature all year round resulting in potential energy savings

Cork flooring is shock-absorbing to relieve strain on feet, joints, back. D

esigned to be wear resistant, cork is designed with a non-abrasive finish for easy maintenance.

Cork is a natural fire retardant: it burns without a flame and does not emit toxic gases during combustion.

Amorim WISE and Wicanders are suitable over radiant floor heating systems.
Amorim WISE is a waterproof cork flooring solution suitable for bathrooms and kitchens, making it ideal for open plan living with the same flooring throughout.